Posted: April 7th, 2013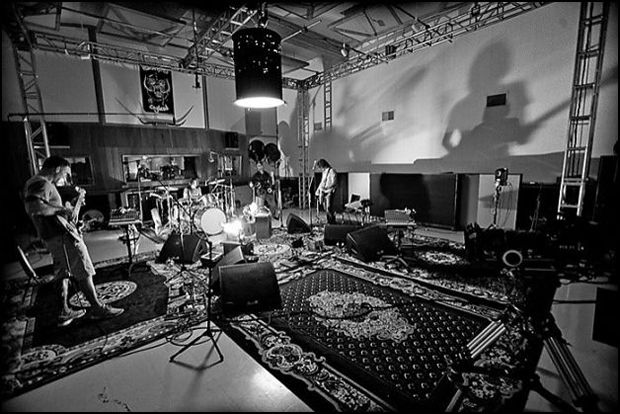 Sound City. A Film by Dave Grohl.
"So they never painted any of the walls or changed the lino on the floors just in case it'd fuck with the …" he made air quotes, "legendary sound quality".
"Looks like they never washed it either."
"And the bands who recorded there? Like … Nirvana. Like Slipknot. Uh … Fleetwood Mac, Elvis Costello, the list goes on and on."
I got out my phone and googled.
"Like Rick Springfield and Barry Manilow and Ratt and, it says here: Evel Knieivel. Was that a band or did Evel Knievel the motorcycle guy actually make a record?"
I knew I could Google that too.
"OK, what about the sweet drum sound?"
"On Evel Knievel's record? Or Barry Manilow's?"
"The fucking legendary drum sound that Dave Grohl goes on and on about. Even though it used to be a Vox amp factory – just a big rectangular warehouse – it had the best drum sound."
My jaw clenched a bit. I couldn't wait to talk about "the best drum sound" again. Where to start …
"So they're saying that acoustic design and treatment – something that pro studios have spent millions and millions of dollars on – is totally unnecessary? And what constitutes …" I made air quotes and grimaced, "the best drum sound, ferfucksake?" Did Manilow and Ratt use the same sweet sound? And also, if Grohl loved their drum sound so much, why didn't he buy the studio and it's sweet unpainted and unwashed magic when they were going belly-up?"
"He bought the Neve board from Studio A."
"And moved it to his studio …"
A quick glance at the Wiki page.
" … located in a warehouse near Los Angeles – "not far from Sound City"?"
"It was really mostly about that board, right? You can't get that analog thing, that sparkle, that warmth and humanness from today's gear."
"Really."
I meant to stop there but didn't.
"So virtually every song recorded digitally … since analog studios started going out of fashion – when was that … in the nineties? – lacks warmth, sparkle and humanness?"
Shuffle.
"And the magic of people playing together in a room. That's a totally analog thing … "
"Really."